Finding out that one is pregnant can be quite the exciting time. Moments after those pink lines changed my life, one obvious factor suddenly hit me. How am I going to handle this pregnancy as a plus size woman?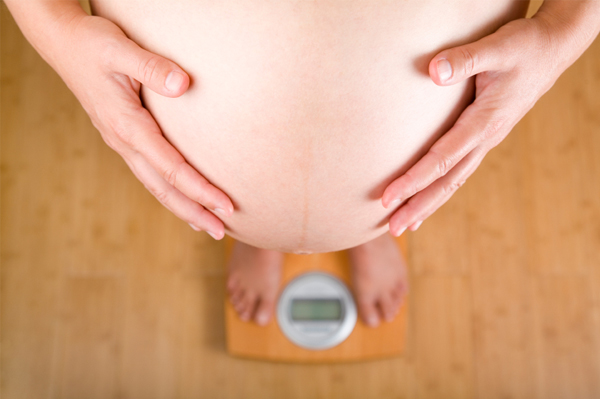 image from pregnancyandbaby.com
I was a month into my
Insanity Workouts
and had lost 14lbs. My first initial
honest
reaction was, "I don't want to gain back all this weight I worked so hard to lose." If you know me, then you know I have absolutely nothing against being a fat girl. I just prefer to be a healthy fat adult. It's quite possible.
I started Insanity because I was tired of having no energy and my feet bothered me like crazy. Not to mention, I found myself slowly going up in pant sizes. I also wanted to be in the best shape possible to hit the ground running with modeling in 2012. So after I found out I was pregnant, I couldn't help but feel a slight bit of sadness. I knew that my body was preparing to change and I'm afraid I won't be able to control it.
According to
WebMD
, an overweight woman should only gain about 15-25 pounds. According to my midwife, I shouldn't gain any weight. Ehh, yeah, I think that's a bit unrealistic. Especially considering that I'm growing a very small human inside of me.
My first question to my new health partner was, "Obviously, I can't continue to do my Insanity workout, so what do you recommend?" She suggested that walking was the only thing I could do until my 2nd trimester (mostly due to spotting off and on). Then she went on to talk about how I'm not eating for 2 people. I need to cut out white bread, white rice and junk food. This frustrated and angered me. I don't want my weight spiraling out of control just as much as my assigned midwife. But why do you automatically assume that my eating habits are out of control? I only eat wheat bread and brown rice. I know how carbs break down into sugar and are stored into the body as fat. Many fat adults aren't fat because we sit around eating Twinkies and McDonald's every day.
Needless to say, every time I've had a slight craving for anything sweet, I've immediately felt bad and attempted to shut it down with fruit. Some days it works, and other days I just want what I want. On top of that, Ryan is still doing his workouts and completed the 63 for Insanity and lost a total of 30 pounds. Meanwhile, at almost 10 weeks, I've already started gaining the weight back that I lost. *insert sad face here* Everyone tells me to not deny myself and of course I know all about moderation.
So this is where my journey begins. Plus size and pregnant (I'll come up with a catchier slogan later). Anyone out there have any experiences with being overweight and pregnant? What are some of the difficulties that you've faced?
I haven't decided if I want to create a separate blog for my pregnancy ramblings or if you all want to read about them here. Of course, I'll still update about fashion and beauty for the plus size woman.